The Dillinger Squad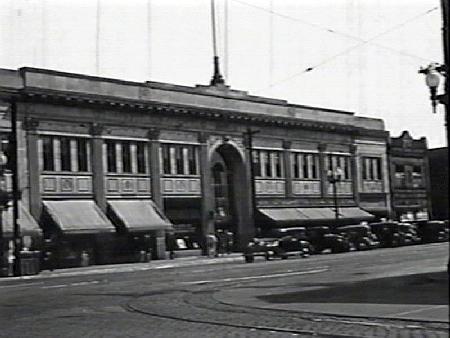 With the heat on and the development by the Chicago police of a special unit called The Dillinger Squad, it was decided by the gang that they should lay low for awhile. Dillinger reportedly dyed his hair red and grew a mustache. John and Billie Evelyn Frechette) joined Makley, Clark, and Pierpont in Daytona Beach, Florida. Also on hand were Clark's girlfriend Opal (mack Truck) Long, Pierpont's girlfriend mary Kinder and Mary's sister Margaret who they had tried to set up with Makley. Margaret and Makley didn't click. On Christmas Eve, Dillinger and Billie discussed marriage. John gave her a diamond ring, his sports sedan and thousands of dollars in cash. Billie was to return to the reservation and file for a divorce from her incarcerated husband Welton Sparks and get Christmas gifts for the Dillinger family in Mooresville, maywood and gifts for Billie's family in Wisconsin.
Dillinger returned north two weeks later to meet Billie iat a prearranged time and location. In the mean time Homer Van meter and John hamilton showed up in Florida asking for help with a mob arranged bank robbery in east Chicago. Pierpont told them no as did John and the others. They thought it was a trick by Nitti to kill them for hamilton's unauthorized act of killing a Chicago police detective. Pierpont, Mary and Margaret, after New Year's Day head south to Miami. Homer Van Meter and John "Red" Hamilton decided to rob The First National Bank in East Chicago, Indiana, on January 15. During the getaway Patrolman William O'Malley fired shots at one of the bandits only to have them bounce off the bulletproof vest the outlaw was wearing. In the exchange of fire that followed one of the bandits shot and killed the officer. Hamilton was wounded by police fire and was helped to the getaway car. Mary Kinder asserted that the third participant was a member of Baby Face Nelson's group. She felt it was probably John Paul Chase but could have been Tommy Carroll or Eddie Green. She said the only Dillinger members were Hamilton and Van meter and they were involved to make amends to Nitti for their disturbances and unauthorized acts in Chicago.
On January 23,1934, Makley and Clark were forced out of hiding at the Hotel Congress in Tucson, Arizona, by a fire that broke out in the hotel that morning. One of the firemen, having recognized them from a crime magazine photo, notified the sheriff. A few days later, Dillinger and Billie Frechette arrived in town for the reunion of the gang. Acting on a tip, the police first arrested Makley, and then Clark, at the house they had been staying in since the hotel fire. Later, following leads, the police were able to capture Pierpont. Dillinger, unaware of these events, arrived at the house where Makley and Clark had been grabbed, and was arrested by officers just as they were setting up their stakeout. The gang was in custody except Hamilton and Van Meter who were still in Chicago. Dillinger had checked on hamilton before going to Tucson and hamilton paid Dillinger some gambling debts using east Chicago funds. This is why Dillinger had a little bit of East Chicago money on him when he was arrested.