The Original Public Enemy No.1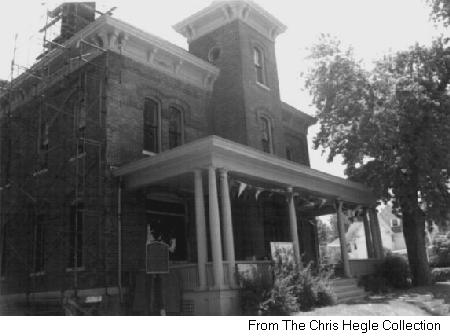 John Dillinger, Public Enemy No. 1, lived up to the title bestowed upon him on his birthday of June 22nd, 1934, by J. Edgar Hoover's Division of Investigation. The popular bandit cemented his national notoriety when on Saturday, March 3, 1934, around 9 a.m. he broke out of the Lake County Jail (the so-called escape-proof jail) in Crown Point, Indiana. Dillinger had been in Crown Point since his extradition from Arizona in January awaiting trial for the alleged murder of East Chicago Police Officer O'Malley. On that morning, using a gun which had been carved out of wood from a washboard and blackened with shoe polish, he took two of his keepers hostage. After locking up the warden, Lou Baker, and getting the drop on the turnkey and one of the national guardsmen there to prevent such a breakout, Dillinger commandeered two machine guns. After freeing a fellow inmate, he ultimately made his way out a side door of the "heavily fortified" jail and proceeded to make his getaway in the sheriff's V-8 Ford.
Dillinger's bold escape set off a flurry of reports of sightings across the midwest in the days that followed. The escape caused a political uproar. In the escape he had made one vital mistake, in driving the stolen sheriff's car across the state line toward Chicago, he had violated the one law that could involve federal agents at the time, the National Motor Vehicle Theft Act. It was an error that would set the stage for his ultimate demise outside of a Chicago theater four months later.
The Early Years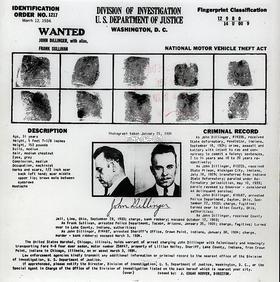 On the late evening of Saturday, September 6, 1924, John Herbert Dillinger's career in crime started inauspiciously enough with the botched robbery attempt of a grocer in his hometown of Mooresville, Indiana. Dillinger had turned 21 years of age just three months earlier. After playing two baseball games in Martinsville, the county seat, he was driven home by Edward Singleton, a distant cousin related to his stepmother and an umpire that traveled with the Martinsville team. Each team supplied one umpire. Singleton, an individual who had a knack for finding trouble, decided to expose John to some bootleg brew. After getting John fully intoxicated Singleton prepared John for the robbery of grocer Frank Morgan. The elderly Morgan was a friend of the Dillinger family and owner of the West End Grocery; a store that John Sr. sold farm goods to. Singleton pulled the car into an alley near the Christian Church and placed John in a dark inlet of the church near the side stairs. John was so drunk he could barely walk. Singleton gave John a bolt wrapped in a handkerchief. Singleton propped John up and hit the horn twice as Morgan passed Singleton's car halfway down the alley. That was the signal for John to attack Morgan. John came out of the inlet and hit Morgan on the head. At this point the 65 year-old grocer began to wrestle with the young and drunk John. He had John on the ground when Singleton came out of the car and shot his gun once into the air. This startled both Dillinger and Morgan. Dillinger got up and was confused. Eventually he rushed toward the car which Singleton was now backing down the alley. Morgan then screamed out the KKK (possiblyy the Masonic) scream for help and porch lights came on. Dillinger headed up town and poked his head in the pool hall to ask if Mr. Morgan was okay. Of course no one knew if he were as the incident had just happened but John was too drunk to know what he was asking.
John was sent to the reformatory in Pendleton, Indiana, where he was to meet future colleagues Harry Pierpont and Homer Van Meter. After serving five years without parole, an embittered Dillinger requested and received a transfer to the Indiana State Prison in Michigan City, Indiana, where Pierpont and Van Meter were already in residence.
By mid-1932 Dillinger had become part of a group of prisoners intent on escaping. This group included Harry Pierpont as one of the leaders, along with Charles Makley, John Hamilton, Russell Clark, and later Walter Dietrich and James Jenkins. Since Dillinger's parole date was approaching he was selected to operate as their connection on the outside, carrying out robberies to raise funds for the escape.
Subsequent to his parole on May 22, 1933, he began a series of holdups. During this period Dillinger began to call attention to himself with his flamboyant style, which included wearing a fashionable straw hat, and a knack for athletic leaps over the teller's barrier into the cashier's cage. Not long after securing sufficient funds for the necessary bribes of guards and officials, along with arranging for the smuggling of weapons into the prison, he was once again arrested in Dayton, Ohio. The arrest took place on September 22, 1933, at the boarding house room of girlfriend Mary Longnaker, with whom he had visited the Chicago World's Fair that summer.
The Dillinger Squad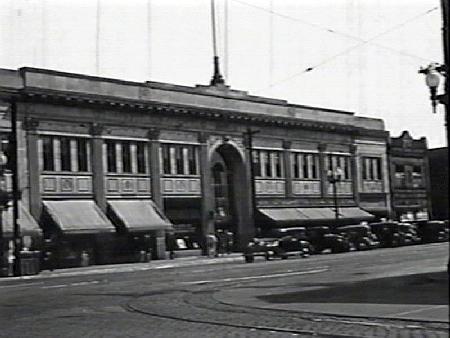 With the heat on and the development by the Chicago police of a special unit called The Dillinger Squad, it was decided by the gang that they should lay low for awhile. Dillinger reportedly dyed his hair red and grew a mustache. John and Billie Evelyn Frechette) joined Makley, Clark, and Pierpont in Daytona Beach, Florida. Also on hand were Clark's girlfriend Opal (mack Truck) Long, Pierpont's girlfriend mary Kinder and Mary's sister Margaret who they had tried to set up with Makley. Margaret and Makley didn't click. On Christmas Eve, Dillinger and Billie discussed marriage. John gave her a diamond ring, his sports sedan and thousands of dollars in cash. Billie was to return to the reservation and file for a divorce from her incarcerated husband Welton Sparks and get Christmas gifts for the Dillinger family in Mooresville, maywood and gifts for Billie's family in Wisconsin.
Dillinger returned north two weeks later to meet Billie iat a prearranged time and location. In the mean time Homer Van meter and John hamilton showed up in Florida asking for help with a mob arranged bank robbery in east Chicago. Pierpont told them no as did John and the others. They thought it was a trick by Nitti to kill them for hamilton's unauthorized act of killing a Chicago police detective. Pierpont, Mary and Margaret, after New Year's Day head south to Miami. Homer Van Meter and John "Red" Hamilton decided to rob The First National Bank in East Chicago, Indiana, on January 15. During the getaway Patrolman William O'Malley fired shots at one of the bandits only to have them bounce off the bulletproof vest the outlaw was wearing. In the exchange of fire that followed one of the bandits shot and killed the officer. Hamilton was wounded by police fire and was helped to the getaway car. Mary Kinder asserted that the third participant was a member of Baby Face Nelson's group. She felt it was probably John Paul Chase but could have been Tommy Carroll or Eddie Green. She said the only Dillinger members were Hamilton and Van meter and they were involved to make amends to Nitti for their disturbances and unauthorized acts in Chicago.
On January 23,1934, Makley and Clark were forced out of hiding at the Hotel Congress in Tucson, Arizona, by a fire that broke out in the hotel that morning. One of the firemen, having recognized them from a crime magazine photo, notified the sheriff. A few days later, Dillinger and Billie Frechette arrived in town for the reunion of the gang. Acting on a tip, the police first arrested Makley, and then Clark, at the house they had been staying in since the hotel fire. Later, following leads, the police were able to capture Pierpont. Dillinger, unaware of these events, arrived at the house where Makley and Clark had been grabbed, and was arrested by officers just as they were setting up their stakeout. The gang was in custody except Hamilton and Van Meter who were still in Chicago. Dillinger had checked on hamilton before going to Tucson and hamilton paid Dillinger some gambling debts using east Chicago funds. This is why Dillinger had a little bit of East Chicago money on him when he was arrested.
The Escapist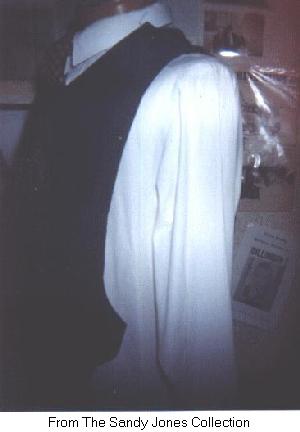 While Dillinger was lodged in the jail at Lima, Ohio, his companions carried out their escape on October 12. All ultimately getting away except for Joseph Jenkins, who after being thrown from the getaway car after the Michigan City jail break, managed to commandeer a vehicle driven by a youth who was able to escape after tricking Jenkins into checking the gas tank. Jenkins was later shot and killed by local posse members on alert in Beanblossom, Indiana.
Three of the escapees, Pierpont, Clark and Makley, soon broke Dillinger out of the Lima jail after badly beating and shooting Sheriff Jesse Sarber, who died that evening. Immediately after the Lima escape the gang went to Cincinnati. Later the gang proceeded to Chicago to avoid the intense manhunt throughout Ohio. In Auburn and Peru, Indiana, they robbed police arsenals acquiring a cache of weapons including machine guns and also bulletproof vests.
During the gang's stay in Chicago, several important events were to transpire. On November 15, Dillinger, with his new girlfriend, Evelyn "Billie" Frechette, narrowly escaped a police ambush set up when an informant had notified the police that Dillinger would be seeing a dermatologist named Dr. Charles Eye. Dillinger eluded his pursuers after having his vehicle shot up in a high speed chase.
The publicity mounting, on November 20, the gang carried out a daring robbery in Racine, Wisconsin. With shots being fired, they escaped behind a shield of hostages. Then on December 14, John Hamilton mortally wounded Sergeant William Shanley, when the detective tried to capture Hamilton in a garage where the detective had followed a lead on a gang vehicle being repaired there. The killing of this detective would foce the gang out of Chicago but Hamilton and Homer Van Meter were told they were not welcome to follow the gang to Florida until they settled matters with the Chicago Capone mob lead by Frank Nitti as capone was servng time in the Atlanta Federal Penitentiary.
The National Spotlight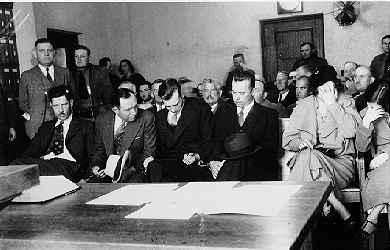 Dillinger became a national news item during his incarceration in the Pima County Jail in Tucson, Arizona. Newspapermen and photographers poured in from around the country. While Dillinger and his gang gave interviews, there was much legal wrangling behind the scenes over which state would win extradition. He was eventually extradited to Indiana to stand trial for the O'Malley killing. The other three men (along with Mary Kinder) were sent to Ohio. The three menwere sent to Ohio to be tried for killing Sheriff Sarber in the Lima breakout. Mary Kinder was released to Indiana authorities for her possible involvment in the Michigan City escape. Nothing ever came of it but she was watched by authorities very closely. Billie Frechette, arrested with Dillinger, was released.

On January 30, the plane carrying Dillinger and his guards arrived at Chicago Municipal Airport (Midway). Waiting at the airport was a large contingent of police, in addition to the Dillinger Squad. With sirens wailing, the car carrying the outlaw was accompanied by a caravan of vehicles and motorcycle cops. Arriving at the sheriff's office in Crown Point, Indiana, he was greeted by numerous reporters with whom he cracked jokes. Photographers convinced Dillinger and Prosecutor Estill to pose, Dillinger cheerfully leaning his arm on his prosecutor's shoulder, with the sheriff looking congenially on. Dillinger closely watched the photographers and timed a pre-arranged signal with his hand that was to set his escape efforts into action.